Ref:
Date:
Location:
Photographer:
Ref:
Date:
Location:
Photographer:
Latest and Upcoming Events
The MoDFA is once again staging an exhibition of exceptional fine art and photographic images created by select international emerging and professional talents. The exhibition "Modern Impressions" opens on December 27th, 2017 and runs until January 10th, 2018. Stop by and see
This weekend, 17th and 18th September, I will be showing my work at the Melbourne Festival Art & Architecture Trail. But before you start looking for flight availability to Victoria, Australia you will be pleased to know that you won't have to travel that far but to the handsome, varied and well positioned county of Derbyshire! I shall be at the One Off Design Consultancy, Derby Road, DE73 8FE. I'll have a selection of new work, prints and greetings cards and look forward to seeing you if you can make it!
Exhibition: 'Past and Present'
.
Skiptonia with Starlings
I'm delighted to announce that my new work Skiptonia with Starlings is now on show at the Mill Bridge Gallery in Skipton, North Yorkshire
.
Art in the Pen is a contemporary art fair set in a cattle auction in Skipton, North Yorkshire. Each of the 100 professional artists is given a cattle pen to transform into a mini art gallery in which to sell his/her original works of art.
The first Art in the Pen had a successful launch in 2006 and saw over 3,000 visitors to the cattle mart to witness the selected exhibitors of art. The event keeps growing in size and volume, with 4,500 people enjoying Art in the Pen 2012 where sales of art reached £54,000. Items ranged from £1 to £2,000.
The event is a lovely opportunity to informally meet local artists through to international artists. The work comes not only from a wide geographical range, but also a diverse mix of artistic backgrounds and specialisms. Art in the Pen features the very best of Modern, Conceptual and Contemporary Art in this friendly and innovative venue on the edge of the Yorkshire Dales National Park.
Art in the Pen will guide you through the labyrinth of cattle pens as the animals have been exchanged for Art to view and buy. Whether you are an experienced collector or buying for the first time, Art in the Pen provides a wonderful opportunity for buyers to be the first to discover the many new and emerging talents amongst established and flourishing artists.
.
Aesthetica Art Prize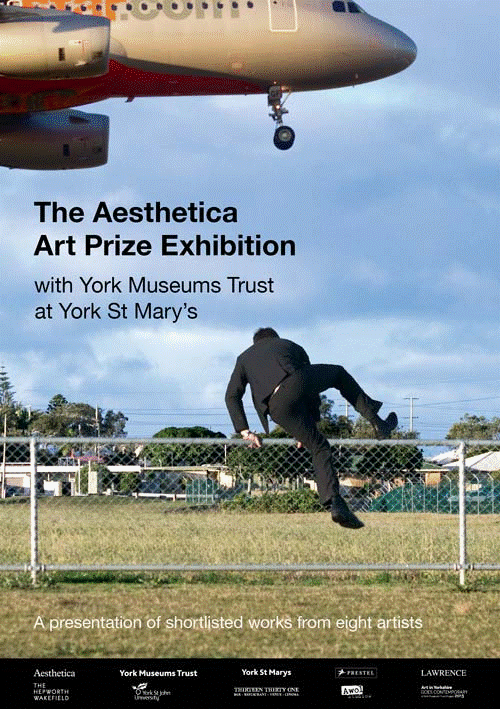 MALAKOFF selected as one of one hundred pieces of work projected onto the walls of St Mary's in York at THE AESTHETICA ART PRIZE EXHIBITION

8 March – 28 April 2013: Free admission
Showcasing innovative and outstanding pieces, the Aesthetica Art Prize Exhibition features shortlisted works from artists in the following categories: Photographic and Digital Art; Three Dimensional Design and Sculpture; Painting and Drawing, and Video, Installation and Performance.
The medieval backdrop of York St Mary's, York Art Gallery's contemporary art space, provides a unique setting for the exhibition, challenging the notion of the white cube and inspiring a dialogue between the historic and the contemporary.
This show highlights artistic talent from locations including the USA, South Korea, Australia, Denmark and the UK. From thousands who entered, eight have been selected for exhibition and the work of a further 100 is projected within the space. This offers visitors an opportunity to experience the international breadth, and appreciate the range and quality of the work.
We would like to thank all of the artists involved and extend our gratitude to our partners and sponsors, including York St John University, The Hepworth Wakefield, Awol Studios, Lawrence Art Supplies, Prestel and 1331.
Aesthetica Art Prize Exhibition, York St Mary's, Castlegate, York, YO1 9RN. More details at: www.yorkstmarys.org.uk.
.
The Cork Street Gallery, Cork Street, London
BORDERS @ GALLERY 23 9th January - 16th March
The showcase titled "BORDERS" features art and craft that spans the borders of Lancashire, Cumbria and Yorkshire
Jane Richardson, Owner and Managing Director of Arteria with Gallery 23 explains;
"The exhibition celebrates the stand out talent of 25 creatives. As a gallery it has been exciting to mix such eclectic pieces from neighboring counties.
We are so lucky to have such inspirational surroundings and we believe that those who visit the show will appreciate seeing work inspired by the county they live in or counties they love to visit."
From statement wall art, to mirrors with messages, beautiful glass to quirky jewellery, ambient lighting to unique textiles, the artistic talent at the "BORDERS" exhibition show no boundaries.
The show runs from 9th January through to 16th March 2012 and is open Monday to Friday 10am to 5pm and Saturdays 9.30am to 5.30pm
For more information please call 01524 61111 or email info@arteriashop.co.uk
'£40 Show' Cupola Gallery, Sheffield
'Art in the Pen 2012' Skipton Auction Mart, Skipton, North Yorkshire
'Calderdale Open Art Exhibition' Smith Art Gallery, Brighouse, West Yorkshire
'Another Spot on the Wall' The Station Gallery, Richmond, North Yorkshire